DZIAŁANIA PROGRAMU
ADRESACI
W Programie moga ̨uczestniczyc ́polscy studenci i absolwenci zagranicznych uczelni z całego świata, w tym polscy studenci wywodzący się z Polonii. Kandydaci muszą znać język polski w stopniu zaawansowanym.
PARTNERZY
Partnerami Programu moga ̨byc ́przedsiębiorstwa, w tym spółki giełdowe działające w Polsce oraz jednostki administracji publicznej.
STRONA GO4POLAND.PL
Jest to platforma kontaktu, wymiany informacji i budowania relacji pomiędzy studentami, a pracodawcami oraz wymiany myśli między mentorami, a Laureatami.
HARMONOGRAM V EDYCJI PROGRAMU GO4POLAND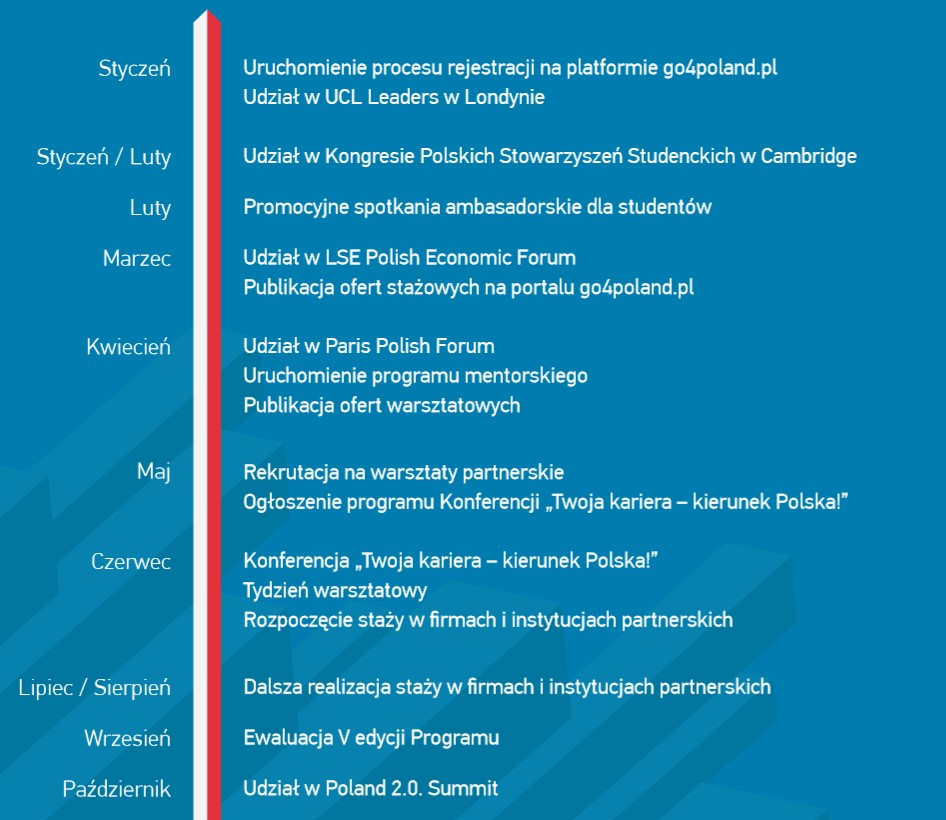 KRAJE LAUREATÓW
UCZELNIE LAUREATÓW
University of Birmingham, London School of Economics and Political Science, University of Glasgow, Northumbria University, University College of London, Coventry University, University of Sheffield, University of Leeds, University of Leicester, University of Bristol, University of Edinburgh, Durham University, University of Aberdeen, University of Warwick, University od Strathclyde, Glasgow Caledonian University, King's College London, University of Lincoln, Universita Bocconi, HEC Paris, University of Southern Denmark, VIA university collage, Copenhagen Business School, Aalborg University, University of Stavanger, Maastricht University, University of Leiden, City univeristy of Hong Kong, Abu Dhabi University, New York University, University of Texas at Austin
---
KIERUNKI LAUREATÓW
International Business, Computer Science, Mathematics with Business Management, Law, Finance, Statistics, Accountancy, Financial Risk Management, Electrical & Electronic Engineering, Economics, Bioprocessing of New Medicines, International Business Management, Advertising & Business, International Relations and Politics, Mechanical Engineering, Mathematics and Statistics, Medical Sciences, Sociology and Social and Economic History, Psychology, Software Engineering, Economics, Mathematics and Sociology, Economics&Psychology, Chemistry, Mathematics, Operational Research, Statistics, Economics, Philosophy, Politics and Economics, International Management, Politics, International Studies and Quantitative Methods, Politics and International Studies, Engineering, Electronic Engineering, Management with Finance, International Business with German, Law with Business, International Business, Competition Law, Political Economy, Criminology & Social Policy, Banking and Finance, Psychology with Forensic Psychology, Economics & Finance, Fashion and Luxury Management, International Economics and Management, Strategic Management, Management , European Social & Political Studies, Product Development and Innovation, Value Chain Management, Business Administration and Service Management, Finance and Strategic Management, International Sales and Marketing, Marketing Management, Economics and Business Administration, Petroleum Engineering, Economics and Business Economics, Econometrics and Operations Research, Work and Organizational Psychology, LLM Law,
SIEĆ AMBASADORÓW
AMBASADORZY PROGRAMU
Studenci renomowanych zagranicznych uczelni.
Członkowie polskich organizacji studenckich na zagranicznych uczelniach.
Reprezentanci organizacji polonijnych wspierających studentów polskiego pochodzenia.
DZIAŁANIA AMBASADORÓW
Zapewnienie dostępu do społeczności akademickiej, w tym do polskich studentów studiujących za granicą.
Reprezentowanie Programu i Partnerów podczas największych wydarzeń skupiających polskich studentów.
Współpraca z organizacjami studenckimi i prezentacja ofert pracodawców.
Uczestnictwo w uczelnianych targach pracy i konferencjach.
ORGANIZACJE STUDENCKIE